本書は、IELTSのライティングスキルに特化した書籍となります。本書を通してライティングをアップグレードさせ7-8.5のスコアを目指します。本書のポイントとして何を目指すべき方針も書かれている一方、減点の対象となるのは何かを明示して何を避けるべきかというヒントも書かれています。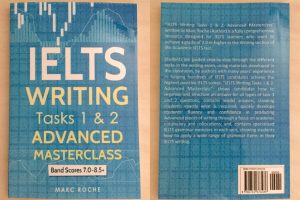 Contents
About This Book p1
The 12 Rules of IELTS Academic Writing p2
IELTS Academic Writing Overview p3
Chapter 1: Language of Change p5
Chapter 2: Introducing your Graph Description p26
Chapter 3: Bar Charts p42
Chapter 4: Describing Two Graphs Simultaneously p55
Chapter 5: Pie Charts p64
Chapter 6: Tables p74
Chapter 7: Process Description p80
Chapter 8: Describing Maps p87
Chapter 9: IELTS Essay p97 Opinion Essay p100
Chapter 10: Writing like a Pro: How to Write Advanced English without Writing "Advanced" English p106
The IELTS Writing Checklist p126
Useful Language for IELTS Writing Task 1 & Task 2 p130
Bonus Chapter: 80 IELTS Writing Grammar Rules p145
About the Author p176
Marc Roche (著), IELTS Academic Writing Consul (寄稿)
出版社: Independently published (2018/9/5)、出典:出版社HP
About This Book
IELTS Writing: Advanced Writing Masterclass (IELTS Tasks 1 & 2) is a fully comprehensive self-study resource designed for IELTS learners who need to achieve a band score of 7.0 to 8.5 in the IELTS Academic Writing test.
Students are guided step-by-step through the different tasks to achieve the highest possible grade in the real exam. The activities in this book have been developed in the classroom by IELTS instructors with many years' experience in helping hundreds of candidates reach the highest possible scores in the exam.
IELTS Writing: Advanced Writing Masterclass (IELTS Tasks 1 & 2) shows candidates how to organise and structure an answer for all types of IELTS Academic writing task in the exam. This book quickly develops students' fluency and confidence in producing Advanced pieces of writing and contains specialised IELTS grammar exercises in each unit, showing students how to apply a wide range of grammar items in their IELTS writing.
The 12 Rules of IELTS Academic Writing
1. Use correct spellings.
2. Avoid contractions like we're; use we are.
3. Never use 'slang' words like 'gonna'.
4. Use formal English words, such as 'discuss' rather than 'chať.
5. Use correct punctuation: avoid very long sentences.
6. Write a mixture of short and longer (complex) sentences.
7. Use your own words, or give a clear reference to the source.
8. Write so that the reader understands exactly what you mean.
9. Connect your ideas clearly (e.g. Finally/In conclusion/However)
10. Use correct grammar that makes your meaning clear.
11. Do not write informally, in a very friendly way
12. Only give true data; do not invent or change it.
IELTS Academic Writing Overview
Length: 60 minutes
Academic Writing Test
図表1.Academic Writing Test
TIP: The exam says to write a 'minimum of 150/250 words but don't write much more. Aim for 10 or 20 words more at the most.
IELTS Academic
The Writing component of IELTS Academic includes two tasks. Topics are of general interest to, and suitable for candidates entering undergraduate and postgraduate studies or seeking professional registration.
Task 1
You will be presented with a graph, table, chart or diagram and asked to describe, summarize or explain the information in your own words. You may be asked to describe and explain data, describe the stages of a process, how something works or describe an object or event.
Task 2
You will be asked to write an essay in response to a point of view, argument or problem. Responses to both tasks must be in a formal style.
Marc Roche (著), IELTS Academic Writing Consul (寄稿)
出版社: Independently published (2018/9/5)、出典:出版社HP