1日10分でスピーキング8.0
 The Ultimate Guideシリーズのspeakingとなります。本書は10年以上IELTSを教えてきたアメリカ出身の経験豊富なネイティブ教師が執筆しています。この本を通して、蓄積されたスピーキング問題に対してのヒント、コツ、戦略、構造説明がパート1 +パート2 +パート3全てをカバーしております。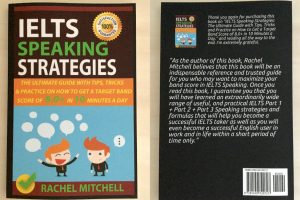 RACHEL MITCHELL (著)
出版社: Independently published (2017/9/11)、出典:出版社HP
Table of Contents
Introduction
Ielts Speaking Introduction
Part 1 Speaking Topics
What Will Give You A High Score In The Speaking Part 1?
How Does The Examiner Mark Your Speaking Test?
Part 1 Speaking Essentials
Fluency Markers
Time And Frequency Expressions
Adverbials For Giving Opinions
Part 1 Speaking Practice
Preference Questions
Part 1 Speaking Model Answers
List Of Part 1 Speaking Questions To Practice At Home
Part 2 Speaking Introduction
Part 2 Speaking Tips
People Description
Adjectives of Personality
People Description Model Answer
Model Sentences For People Description
Place Description
Adjectives For Describing Places
Place Description Model Answer
Model Sentences For Place Description
Object Description
Useful Adjectives For Describing Objects
Object Description Model Answer
Model Sentences For Object Description
Past Event Description
Past Event Description Model Answer
Model Sentences For Past Event Description
Part 3 Speaking Introduction
Language For Giving And Supporting Opinions
Practice Questions
Talking About Advantages And Disadvantages
Hypotheticals
Practice Questions
Proposing Solutions To Problem
Practice Questions
Agreeing And Disagreeing
Language For Expressing Likelihood
The Future Perfect & The Future Continuous
Practice Questions
Model Sentences For Part 3 Speaking
Part 3 Speaking Questions For Practice
Friendship
Successful People
Advertisement
Teaching
Advice
Adventurous People
Animals
Cell Phones
Computers
Fashion & Shopping
Gifts
Transportation
Photography
Music
Films
Sports
Food
Tv Programmes
Relaxation
Newspapers And Magazines
Parties
Travelling
Noise
Reading
Festivals
Parks
Conclusion
Check Out Other Books
RACHEL MITCHELL (著)
出版社: Independently published (2017/9/11)、出典:出版社HP
INTRODUCTION
Thank you and congratulate you for downloading the book "IELTS Speaking Strategies: The Ultimate Guide with Tips, Tricks and Practice on How to Get a Target Band Score of 8.0+ in 10 Minutes a Day."
This book is well designed and written by an experienced native teacher from the USA who has been teaching IELTS for over 10 years. She really is the expert in training IELTS for students at each level. In this book, she will provide you all proven Formulas, Tips, Tricks, Strategies, Explanations, Structures, Part 1 + Part 2 + Part 3 Speaking Language, Vocabulary and Model Part 1 + Part 2 + Part 3 Answers to help you easily achieve an 8.0+ in the IELTS Speaking, even if your speaking is not excellent.
This book will also walk you through step-bystep on how to develop your well-organized answers for the Part 1 + Part 2 + Part 3 Speaking; clearly analyze and explain the different types of questions that are asked for the IELTS Speaking Test; provide you step-by-step instructions on how to answer each type of question excellently.
As the author of this book, Rachel Mitchell believes that this book will be an indispensable reference and trusted guide for you who may want to maximize your band score in IELTS Speaking. Once you read this book, I guarantee you that you will have learned an extraordinarily wide range of useful, and practical IELTS Part 1 + Part 2 + Part 3 Speaking strategies and formulas that will help you become a successful IELTS taker as well as you will even become a successful English user in work and in life within a short period of time only.
Take action today and start getting better scores tomorrow!
Thank you again for purchasing this book, and I hope you enjoy it.
IELTS SPEAKING INTRODUCTION
The IELTS speaking test lasts about 11 to 14 minutes. It has 3 parts, and it's worth 25% of your IELTS score.
However, the speaking test is very unique because it's much shorter than the other sections. Specifically, writing test (1 hour), listening test (45 minutes), reading (1 hour), and speaking test (11-14 minutes).
The IELTS speaking test is shorter but it gives you more opportunities to practice more basic skills.
Let's talk about the three parts of the speaking test.
RACHEL MITCHELL (著)
出版社: Independently published (2017/9/11)、出典:出版社HP