1日10分でリスニング8.0
 The Ultimate Guideシリーズのlisteningとなります。本書は10年以上IELTSを教えてきたアメリカ出身の経験豊富なネイティブ教師が執筆しています。リスニングタイプは26個のTipsが書かれています。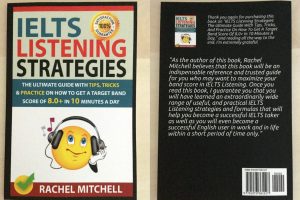 Table of Contents
INTRODUCTION
IELTS LISTENING TEST INTRODUCTION
IELTS LISTENING FORMAT
Sections 1 & 2:
Sections 3 & 4:
IELTS LISTENING MARKING AND ASSESSMENT:
IELTS LISTENING QUESTION TYPES:
1. MULTIPLE CHOICE QUESTIONS:
2. COMPLETION QUESTIONS:
3. SHORT ANSWER QUESTIONS
4. LABELLING A DIAGRAM.
IELTS LISTENING TIPS & TRICKS
TIP 1:
TIP 2:
TIP 3:
TIP 4:
TIP 5:
TIP 6:
TIP 7:
TIP 8:
TIP 9:
TIP 10:
TIP 11:
TIP 12:
TIP 13:
TIP 14:
TIP 15:
TIP 16:
Tip 17:
Tip 18:
Tip 19:
Tip 20:
Tip 21:
Tip 22:
Tip 23:
Tip 24:
Tip 25:
Tip 26:
ONLINE DICTIONARIES
THE ANSWER SHEET:
LISTENING STRATEGIES
Listening for relaxation
Listening for main ideas
Listening for specific information
Listening again and again
CONCLUSION
CHECK OUT OTHER BOOKS
Rachel Mitchell (著)
出版社: Independently published (2017/11/22)、出典:出版社HP
INTRODUCTION
Thank you and congratulate you for downloading the book "IELTS Listening Strategies: The Ultimate Guide With Tips, Tricks, And Practice On How To Get A Target Band Score of 8.0+ In 10 Minutes A Day."
This book is well designed and written by an experienced native teacher from the USA who has been teaching IELTS for over 10 years.
She really is the expert in training IELTS for students at each level. In this book, she will provide you all proven Formulas, Tips, Tricks, Strategies, Explanations, Structures, Listening Language, and Vocabulary to help you easily achieve an 8.0+ in the IELTS Listening, even if your listening is not excellent. This book will also walk you through step-by-step on how to develop your listening skill; clearly analyze and explain the different types of questions that are asked for the IELTS Listening Test; provide you step-by-step instructions on how to answer each type of question excellently.
As the author of this book, Rachel Mitchell believes that this book will be an indispensable reference and trusted guide for you who may want to maximize your band score in IELTS Listening. Once you read this book, I guarantee you that you will have learned an extraordinarily wide range of useful, and practical IELTS Listening strategies and formulas that will help you become a successful IELTS taker as well as you will even become a successful English user in work and in life within a short period of time only.
Take action today and start getting better scores tomorrow!
Thank you again for purchasing this book, and I hope you enjoy it.
IELTS LISTENING TEST INTRODUCTION
・The Listening test is the first module of the IELTS test. All IELTS students take the same listening test. So, if you're taking academic IELTS or general training IELTS, you all take the same test, the same questions, the same format, and the same scoring.
・It takes approximately 30 minutes, then candidates are given an extra 10 minutes at the end to transfer their answers from their Question Booklet to their Answer sheet.
・There are 4 sections with 10 questions each (40 questions). The first two sections are the easiest; they are social. That means the context of the situation is a social situation (an everyday situation) and the last two sections are more difficult, they are academic in content.
· The recording is heard only once. Ensure you listen carefully. If you miss something, there's no second chance. That means you really are multitasking during this listening test. You need to listen to the recording, read the questions and at the same time write down your answers. It can be quite difficult and it's something that you do need to practice.
・Test gets more difficult as it continues.
・There are a total of 40 questions, with 10 questions per section. A variety of tasks that may be presented in the Listening test (e.g., Multiple Choice, Short Answer, Form Completion, sentence completion, labeling diagrams, etc…).
・Candidates are given time to read the questions before they listen and time to check their answers after they listen.
・Candidates must use a pencil to write answers on the Answer Sheet because it is scanned by a computer. That's the same as the IELTS reading test.
Rachel Mitchell (著)
出版社: Independently published (2017/11/22)、出典:出版社HP